Upper and lower limbs ergometer : Cyline 100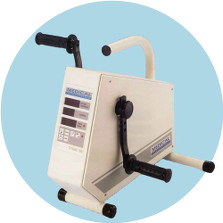 Historical product, issued from HEF Techmachines.
We assure the maintenance of this product.
The Cyline 100 is an ergometer for upper and lower limbs, used for effort rehabilitation.

Intended use
Cardio-vascular disease : after a bypass surgery, angioplasty, heart transplant
Liver, kidneys, bone marrow transplant
Patients with respiratory failure
Vascular and neurological disease
Geriatric and orthopedics services
The Cyline 100 model is the ideal ergometer, especially for evaluation, training and rehabilitation of the upper and lower limbs.
Documents to download: